Smokin' Cherry
Cherry Wood Smoked Cherry Hot Sauce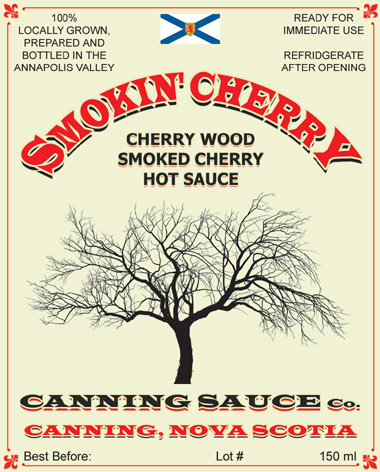 The Annapolis Valley, still known for its apple orchards, and increasingly its wines, was once a major grower of cherries. In the early 1920's a blight practically wiped out the industry and few cherry trees remained as the valley moved towards apples.
For this limited production hot sauce we source cherries from the few growers that remain - then smoke them with the wood of old cherry trees. Locally grown peppers add a kick of heat and a mix of local red wine and apple cider vinegars balance out the sweet cherries. Seasoned with a touch of Nova Scotia sea salt, this sauce is a unique expression of our local flavours.
Enjoy this sauce on pizza, morning eggs, or on grilled steak where it's just amazing!
Ingredients: cherries, apple cider vinegar, red wine vinegar, cayenne peppers, jalapeno peppers, habanero peppers, Nova Scotia sea salt, cherry wood smoke
We have a solitary old cherry tree on our property. It produces beautiful cherries, when we can get to them before the birds and raccoons devour them. Pruning it one year involved removing some dead branches that were well dried out solid wood. The aroma that came off them when cut smelled like the sweet cherry sauce you find inside maraschino chocolates. It was wonderful.
After having smoked with apple wood, that smell told us we needed to smoke something with cherry wood. "Why not smoke the cherries themselves?" So that's what we did, and then added our hot peppers to turn it into a hot sauce.
We don't get enough cherries off of that one tree- even if we could get them all before the local wildlife takes their unfair share- to make this sauce in enough volume. For that reason we hunted for a local cherry grower and found a source that had deep red sweet cherries only a few minutes from us.