Howling Apple
Lightly Smoked Apple, Habanero & Ghost Pepper Hot Sauce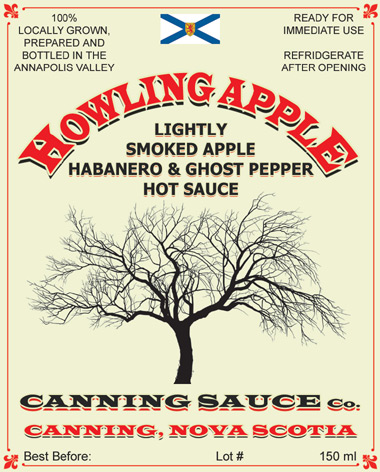 There's an abandoned orchard near us in the Annapolis Valley, and the DeWolfe family, of the clan for which the town of Wolfville is named, farmed there for 150 years. Now growing wild, it still produces apples from old heritage varieties, and when night falls on the orchard, we can hear coyotes howling among the old trees.
For this sauce we hand pick those apples, roast them, and smoke them with apple wood. Locally grown Habanero and Ghost peppers are added for some serious heat.
You taste fruity apple up front, followed by a touch of smoke, and then... the heat begins to howl. This rather hot sauce is great with BBQ chicken, pork and eggs.
Ingredients: apple, apple cider vinegar, water, onion, habanero pepper, garlic, cayenne and ghost pepper, Nova Scotia sea salt, apple wood smoke
We found a local farm that was growing Habaneros, a much hotter pepper than our Cayennes, and figured we needed to come up with a sauce that used them. This farm was also growing a small amount of Ghost peppers, which is an extremely hot pepper. In fact, in 2007 the Bhut Jolokia, or Ghost Chili pepper, was considered the world's hottest pepper until newly bred varieties outpaced it in 2012 and 2013. This meant that a very hot sauce was in order.
Since the abandoned orchard next to us is still producing apples, we're able to utilize the fruit as well as the wood we use for smoking. These apples haven't seen any pesticide or fungicide sprays in well over a decade, so while they don't always look so pretty- misshapen, or covered in spots & blemishes- their insides are sound and tasty. Exactly right for sauce.
As hot as this sauce is- it's a bit scary for the uninitiated so you don't need much- it packs a lot of flavour. We only lightly smoke the apples so as not to overpower the fruit flavour, and while the Habeneros do contribute a fair amount of heat, they also add the peppery richness in the sauce. It's the ghost peppers, and it does not take much of them, that take the heat to the next level.
This is not a super hot sauce just for the sake of being extra hot! Using all fresh ingredients means there's lots of flavour here. There's no capsicum extract added to artificially inflate the heat levels, and we only use a quite small amount of Ghost pepper to add just a bit more punch. Serious chili heads might even be disappointed if they were solely seeking the heat. It might rate about 7 out of 10 on a heat scale.