Annapolis Heat
Apple Wood Smoked, Roasted Jalapeno Hot Sauce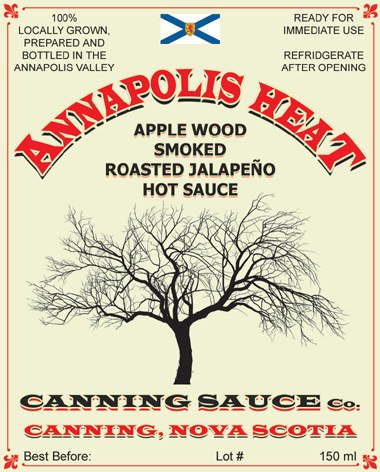 This unique sauce celebrates our ties to the land in the Annapolis Valley of Nova Scotia. Our home grown peppers are fire roasted then smoked with apple wood from a nearby orchard. It is preserved with local apple cider vinegar and seasoned with Nova Scotia sea salt, plus a touch of honey sweetness from bee hives that spent time in Annapolis Valley orchards, blueberry fields and wild flower fields on the North Mountain.
Smokey, yet fruity, with a touch heat, fantastic on BBQ ribs, pulled pork, enchiladas, eggs, venison or anywhere you'd like to add some distinctive flavour.
Ingredients: jalapeno peppers, apple cider vinegar, bell peppers, onion, water, garlic, cayenne peppers, honey, Nova Scotia sea salt, apple wood smoke
This is the sauce that started it all. First produced over an applewood fire in our back yard with a makeshift smoker built from a springform pan, some aluminum foil, and apple wood chips chopped by hand with a small hatchet. Great things do come from very humble beginnings.
Besides the taste- that wonderfully smoky flavour- this sauce is a visual beauty. The green base is of course the jalapeno peppers, flecks of red from the cayenne peppers, bits of black from the char that develops during the fire roasting, as well as little bits of soft, pale, garlic and onions, and bright white pepper seeds.