Annapaloupe
Cantaloupe Habanero Hot Sauce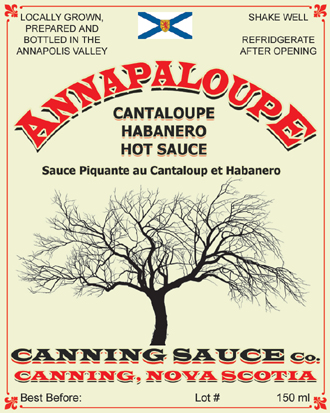 After World War 2, a wave of Dutch immigrants came to Canada and many settled in farming communities like the Annapolis Valley. Hard working and innovative farmers, they've had a major impact on the farming industry in Nova Scotia, revitalizing underused farmland and pioneering new crops and farming techniques.
This sauce uses cantaloupe, certainly not a common crop in Nova Scotia, but grown by a farmer of Dutch descent, just up the road from us in Canning.
Sweet and fruity with a building heat it's great on pizza, with grilled chicken or in a salsa to add some sweet heat.
Ingredients: cantaloupe, apple cider vinegar, habanero peppers, Nova Scotia sea salt
We've grown Cantaloupe in our home garden a few times and the vine rippened fresh flavour is amazing. When we found out a farmer just up the road from us was growing local cantaloupe at scale we thought it might make a great hot sauce.
First we made a small test batch to see how it would turn out. We were uncertain if it would hold up over time. Would it retain it's colour, or turn brown, or grey? Would the melony flavours hold up, or fade away? So we made a mason jars' worth and stuck it in the fridge. No heat pasturization, no vinegar. Just cantaloup and habanero. Six months later it was still bright orange and tasted like fresh fruity cantaloupe!!!! A few cases of cantaloupe were now on order from our local farmer.
The cantaloupe flavour is surprisingly bright and forward on this sauce, with the habanero heat building from behind. Sweet but not overly so as the only sugars are what's in the melons themselves.