Stories of People and Place
The land changes you. It influences and inspires you, if you let it. Beyond the soil and topography, it's the generations before you that have shaped the land, and were in turn shaped by it. Location is, afterall, a primary influencer of culture and history. Because place matters.
This place, Nova Scotia, and right here, the Annapolis Valley, matters. Rich in history, it has shaped and evolved cultures here in Canada and elsewhere in North America.
This land is full of stories. Those stories, as part of our culture, can be tied to food and flavours, and that's where it becomes part of our story.
Our Story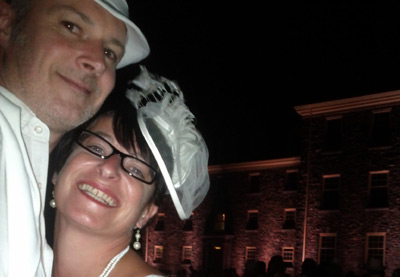 We (Steve and Kim Hatcher) moved to Canning, Nova Scotia from the Interior of British Columbia in 2012. We didn't choose the valley so much as chance chose it for us. A combination of choosing to move the Nova Scotian back home, and bring the West Coast wife East on a whim, setting up real estate deals over the internet, and time running out for our already established arrival in NS, when the world stopped spinning, we found ourselves homeowners in the heart of Nova Scotia's agriculture region. It's wine region too- important for the wine nerds that we are.
Fast forward to us planting a backyard garden that produced a bumper crop of Jalapeņo and Cayenne Peppers. What to do with all these peppers? The initial inspiration was an episode of "Chucks Week Off" with chef Chuck Hughes from Montreal. He had visited a hot sauce maker in Mexico who grew Habaneros, not Jalapeņos, but what was interesting was how they had fire roasted them along with onion and garlic. "Aha, let's roast those peppers and make a hot sauce!"
More inspiration came from a neighbor who had recently cleared a large number of apple trees from an abandoned orchard, so we had access to lots of apple wood. "Mmmm, apple wood has a great smoke flavour. Let's roast those peppers and then smoke them!" And a sauce was born. A few batches, and tweaks to the ratio of our 100% local ingredients, lead to what is now Annapolis Heat.
Friends and family raved about the sauce, and we were on to something. Thoughts of increasing pepper production, for more sauce of course, led to thoughts about that first sauce, and the inspirations behind it. Our location, sourcing local ingredients, what grows well in the Annapolis Valley, the history of farming here, and the future of farming here. All of these things influenced more delicious sauce ideas.
The next growing season we ramped up pepper production, plus made connections with local farmers growing more hot peppers, other varieties of peppers, and other ingredients. We tested and tweaked a few new sauce recipes and decided to make just enough to sell at local Farmers Markets to see what others thought of them. Really, we only made enough to satisfy, barely, our local label printers and their minimum print run limits. But off to market we go!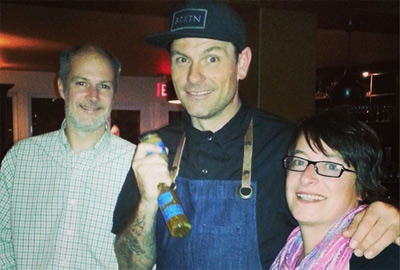 Oh, and we had a chance to get a bottle of that first sauce into the hands of Chef Chuck Hughes himself!
That was the beginning of our story. It has now evolved into starting an actual farm. It's a small farm, but it allows us to further the growth of our peppers and other ingredients for sauces, as well as branch out to other types of produce. Like lettuce. We grow lots and lots of lettuce.
In the winters, while the farm is hybernating, Steve is working as an interior painter and Kim attends farmers markets selling our sauces.
Go read about our sauces, and their stories.
Our Local Suppliers
Besides what we grow ourselves, we source local ingredients from a range of farmers and producers in the valley and Nova Scotia. Below is a sample of who we buy from, without whom we'd have no sauce.